Projekt RISE4PM - RFID Sensors for predictive maintenance scenarios
Subproject: Software systems and test environment for the RFID sensor tag platform
In RISE4PM new methods for the utilisation of wireless RFID sensor systems for realisation in Industrial IoT uses are investigated. To this end new approaches in the form of cyber-physical systems for production are to be researches and developed. The result is a hlistic framework of a Cyber-Physical Production System (CPPS) consosting of hardware and software components, which enables industrial users to efficiently realize typical measurement tasks for the Industrial IoT cases following a plug-and-work approach using RFID technologies.
Dipl.-Ing.(FH) Markus Höfgen
Forschungsmitarbeiter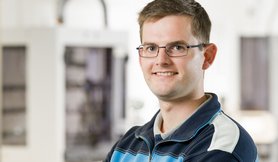 Project duration
February 2020 to February 2022
---
Promotion
This measure is co-financed with tax revenues on the basis of the budget adopted by the Saxon State Parliament.