Publish Open Access
The publication of your results from research and development is an essential aspect of your daily work. Open Access means ensuring free access to scientific literature and other materials on the Internet. If you have any questions or need support, please contact our team!
In its Open Access Declaration, HTW Dresden recommends that its members publish Open Access and supports them in the following ways:
Financing of publications via the Open Access Publication Fund
(Second) publication option on the publication server Qucosa
Participation in the DEAL contracts with Wiley and Springer Nature, so that in the vast majority of cases no further costs are incurred by the individual, permitted authors
Advice and courses on Open Access publishing
Publications are read and cited more often

Benefit from financing options

Between the green and golden OA paths

Strengthens the transfer of knowledge to society

Worldwide access without payment barriers

Increasingly anchored in funding policies

Publish faster and discuss actively

Share results easily in the community
Paths of Open Access
Open Access increases the reach of research papers - both in academia and in the public domain: digitally, worldwide and free of charge. In general, a distinction is made between the "golden road" and the "green road" of Open Access. Both variants are supported by HTW Dresden. Below you will find more detailed information on the different paths of Open Access.
The golden path is characterised by:
First publication of scientific publications in an Open Access journal
Quality control through peer review
publication contract with the publisher
Article Processing Charges (APC) are often demanded from authors
An overview of quality-controlled OA journals is provided by the Directory of Open Access Journals (DOAJ). The Directory of Open Access Books (DOAB) can be searched for freely accessible monographs.
The green path is characterised by the following aspects:
Scientific papers are first published in a paid format and additionally appear in a freely available digital version, which can be accessed immediately or after an embargo period via institutional or disciplinary publication servers (repositories).
A Secondary exploitation by authors is only possible after a thorough review of the author's contract.
SHERPA/RoMEO provides a good overview of the publishing guidelines. Common restrictions are: no use of the original PDF, but use of the postprint (=Final Drafts); reference to original publication; embargo period, e.g. second publication only after 6-12 months*
The Open Access team at HTW Dresden will be happy to check your publication list for a possible second publication. In addition, you have the option of securing your second publication rights in the future by granting the publisher only "simple rights of use" for your publication.
* Explanation of terms (further information can be found in the Article Version Explainer):
Preprint: a non-peer-reviewed scientific paper, rights of use belong to the author
Postprint: the last version after the peer review process without the publisher's own formatting, not identical to the publisher's version.
The HTW Dresden operates the publication platform Qucosa, which currently mainly contains scientific articles and theses. Weitere Further information can be found on the page Open Access Publishing with Qucosa.
An overview list of other repositories can be found in the Directory of Open Access Repositories (OpenDOAR).
Offer by various publishers to buy individual articles from traditionally fee-based journals, which are then immediately accessible via Open Access.
Use of different terms for the hybrid path, such as Open Choice, Open Select and sometimes - misleadingly - "Open Access" or even "Gold Open Access" as at Elsevier.
The hybrid path is generally controversial, as compared to the usual Article Processing Charges (APC) of Gold Open Access journals, the fees incurred are usually disproportionately more expensive and institutions pay twice for hybrid publications if the library has already subscribed to the journal. In many cases, moreover, secondary publication is possible in the sense of Green Open Access, so that thorough consideration should be given to whether hybrid Open Access publication is really necessary. The hybrid Open Access path is not supported by HTW Dresden for the aforementioned reasons. However, settlement via the DEAL contracts is possible.
Financing Open Access
Open Access is not free. With the increasing acceptance of Open Access, new business models are emerging. In principle, the following financing options are available to you at HTW Dresden for your Open Access publication:
Since 2020, HTW Dresden has offered a publication fund to promote the publication of articles in OA journals. The fund can be used to pay publication fees (so-called article processing charges, APC), which are often incurred when articles are published in OA journals. The fund is financed by the German Research Foundation (DFG) and the Research Innovation Fund (FINF) of HTW Dresden. For more information on how to apply, please visit the Publication Fund page.
Under the project name DEAL, Germany-wide licences and fair price models are being negotiated with the largest commercial publishers Wiley, Springer Nature and Elsevier for almost 700 German academic institutions, including HTW Dresden. In the process, the major publishers are changing the business model. Articles are now financed through publication fees instead of journal subscriptions. Articles published under DEAL appear Open Access and are accessible free of charge on the internet. Positive agreements have been reached with the publishers Wiley and Springer. Negotiations with Elsevier have not yet been concluded. Further information can be found on the page Publishing within the DEAL-Framework.
Major funding organisations have moved towards recommending or making mandatory the open access publication of results from funded projects. Through their funding allocations, they support OA financially or make funding dependent on it. Last but not least, they are concerned with creating a countervalue to public funding of research by providing free access to scientific information. Research results that have been produced with public funds should be available for the benefit of all, if possible. The obligations to open access find their limits in the researchers' freedom of science and publication.
BMBF:
The BMBF has developed anOpen Access Strategy for Germany. The Open Access clause calls for publications from BMBF-funded projects either to be published directly in Open Access (Golden Path) or to be placed in a suitable repository after twelve months at the latest (Green Path.) In addition, the BMBF supports Open Access in that costs incurred for publication in an Open Access journal as part of project funding can be applied for with the project funds. Through flexible use of the project allowance, publication costs can be claimed as part of the project-associated indirect costs even beyond the project duration. Publications from completed BMBF projects are also funded from a post-grant fund. One of the prerequisites is that the grant period ended no more than three years ago (date of application). Expenditure up to a maximum of 2,000 euros per publication will be fully funded. The maximum funding amount per publication is 2,400 euros. Open Access book publications can also be funded by the BMBF Post-Grant Fund.
DFG:
The DFG has not yet translated its recommendation for open access into a binding guideline. Unlike other research funding organisations, the DFG does not tie grants to a commitment to open access. However, researchers are encouraged to make project-related publications available in open access. With funding programmes such as "Electronic Publications", "Scientific Journals" or "Open Access Transformation Agreements", the DFG nevertheless promotes OA indirectly via service and information facilities, for example by creating local publication funds for OA publications. In the current DFG funding programme "Infrastructure for Electronic Publications and Digital Scientific Communication", the DFG has made open access publications mandatory for the first time. Last but not least, publication grants can be applied for from the DFG as a partial sum of the total project funds and used for publications in OA journals.
European Framework Programme HORIZON 2020:
A publication within the framework of the EU funding programme Horizon 2020 of the European Commission during the project period obliges in any case to archive a machine-readable electronic copy of the accepted manuscript version on an open access repository. Irrespective of this, a first publication can be made by way of an Open Access publication (Golden Path) or self-archiving (Green Path). Any publication fees incurred for publication during the term of the project will be reimbursed. Upper limits for APCs are not specified.
It should be noted that no further open access publications can be funded from the project budget after the end of the project.
Please feel free to contact Public Research Funding for questions regarding national and European third-party funding.
Information and Documents
M.A. Annette Thoma
Coordinator Open Access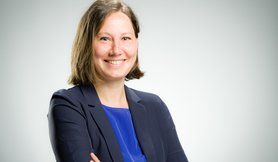 Serviceaddress
for Open Access
---
This might also be of interest to you