Prof. Dr. oec. Evelyn Hartmann
Professorship General Business Administration / Production Management
Professorship
The Professorship of General Business Administration/Production Management is responsible for teaching in the modules "General Business Administration", "Applied Business Administration: Data Analysis and Case Studies", "Logistics", "Supply Chain Management: Operations Management".

Courses of the professorship are offered in the bachelor's degree programs in business administration, chemical engineering, geomatics, international business and industrial engineering as well as in the diploma programs in general mechanical engineering, automotive engineering, building systems engineering and production engineering.
Particular focus/special areas of teaching are business administration basics, working with key figures, optimization models and the use of MS Excel.
Prof. Hartmann supervises internships and theses in the field of logistics/production management.
Prof. Dr. oec. Evelyn Hartmann
Response times:
1. Week Tuesday 12.30 - 13.30
2. Week Wednesday 11.00 - 12.00
beyond that only after verbal/telephone agreement
not by email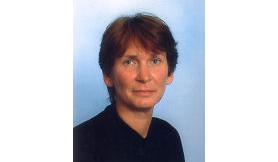 Curriculum Vitae
| | |
| --- | --- |
| since 2006 | Professorship at the HTW Dresden |
| 1993–2006 | HTW Dresden, faculty of economics, academic assistant for middle class research |
| 1990-1993 | HFV Dresden/TU Dresden/ZFIV Berlin, Aspirant B |
| 1986-1990 | ZFIV Berlin, research assistant / scientific expert at the Centre for Transport Economics |
| 1983-1986 | Research studies ( Promotion to Dr. oec.), HfV Dresden, Faculty of Humanities, "The exploitation of interdependence models for the determination and prognosis of the economic transport effort". |
| 1983-1986 | Studies of business administration (Dipl. Ing.-Ök.), HfV Dresden, section transport and business administration, "Program-side preparation for transport optimization using the example of the VEB(B) service combine Karl-Marx-Stadt" |
| | |
https://www.t-online.de/leben/reisen/reisetipps/id_85940570/feiertag-ferien-sperrung-autofahrer-erwartet-stauwochenende-ueber-fronleichnam.html
(source: imago images/Marius Schwarz)
Interests
The research/interest focus of the professorship General Business Administration/Production Management is in the area of logistics and MS Excel.
Organized by Prof. Hartmann there are regular excursions, most recently Gläserne Manufaktur Dresden, Eberspächer Exhaust Technology Wilsdruff GmbH & Co.
Summer semester 2020
Winter semester 2020/21