Prof. Dr. phil. et. rer. nat. habil. Rüdiger von der Weth
Professorship Business Administration / Human Resources and Labour Sciences
Professorship
The professorship of business administration / human resources management and labour sciences is responsible for teaching in the subjects of labour sciences, work design, work and organisational psychology, complexity management, knowledge management and basics of human resources management.
The professorship's courses are offered in all Bachelor's and Master's degree programmes of the faculty, as well as for students of production engineering.
Particular focal points/special areas in teaching are the role of people in complex and highly technical work processes, the design of workplaces and information offers for such tasks and strategies for human-oriented digitalisation in companies.
Current offers for internships and qualification work on these topics can be requested by e-mail.
Prof. von der Weth is the university supervisor responsible for the foreign partner university FH Nordwestschweiz.
Prof. Dr.phil. et rer.nat.habil Rüdiger von der Weth
Response times:
Monday 5:00 - 6:00 pm
Please register 24 hours before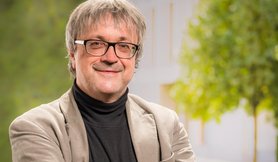 General topic suggestions for a thesis
---
Below you will find possible topics for theses. The topics are to be understood as examples and can also be used to develop your own questions. They are related to current research projects. It is also possible to work on related topics together with companies. If you have your own ideas that differ from the topics listed, you can discuss them together. For this purpose, please contact directly Prof. Rüdiger von der Weth. For Bachelor's theses, I expect knowledge in the area of systematic scientific literature research. Those working on Master's theses should have knowledge of qualitative and quantitative research methods or be willing to familiarise themselves with them.
---
1.) Effects of digitalisation on human work: efficiency, motivation, necessary qualification, health consequences.
2.) Development of strategies for the introduction of new technologies in companies
3.) Qualification and recruitment strategies, especially for SMEs in digital innovations
Vita
Since 2003 Professorship at the HTW Dresden
2000-2003 Professorship for Work and Organisational Psychology at the HfT Stuttgart. Main area of work: knowledge management for complex tasks in organisations
1995-2000 Assistant Professor of General Psychology at the TU Dresden (Prof. Hacker). Main focus: Management of Complexity (Habilitation 1999).
1991-1995 Freelance work as a management trainer (strategic action, individual handling of complex requirements)
1986-1995 Worked at the Department of General Psychology and Methodology at the University of Bamberg (with interruptions)
1979-1985 Studied at the Technical University of Berlin (Diploma in Psychology, minor in Software Engineering). Focus on industrial and organisational psychology
1960-1979 Born in Coburg (parents: Tussy and Helmut von der Weth), grew up in Meeder near Coburg. Abitur at the Gymnasium Albertinum Coburg
Interests
The AWI professorship deals with the consequences of digitalisation for people and the question of how to design future work systems and company cooperation in such a way that meaningful, healthy and innovative work is possible and we can further develop our skills. This is done in close cooperation with practitioners (e.g. Infineon, DGVU, medium-sized companies) and other scientific institutions.
AWI and the Chair of Human Resource Management conduct joint research in the Human Factors and Resources working group. There and in the HTW's research information system you can find more information about staff, research projects and third-party funding. Cooperative doctoral projects are supervised at the professorship.
Prof. Rüdiger von der Weth gives lectures and workshops on the role of people in future processes of digitalisation and innovation, as well as on the planning of complex strategic decisions.
Publications Books
Winter semester 2022/23
Summer semester 2023