We would like to take this opportunity to once again thank all participants who supported the International Day with their enthusiasm!
On our website, we provide information for those who were not able to participate live in the events of the International Days.

Do you have further questions about studying abroad? We'll be happy to support you: Information about the counselling options.
Tuesday 29.11.2022
Studying Abroad 101 – Everything you need to know:
Do you like travelling and discovering new cultures and want to spend part of your studies abroad? Let yourself be inspired by the many possibilities of a stay abroad!
The HTW Dresden is connected to many partner univeristies worldwide and you can benefit from this by participating in a summer school, studying a semster abroad, gaining work experience in an internship abroad or even earning a double degree in certain study programmes.
The International Office provides information about the numerous possibilities of a stay abroad, gives general advice and tips on financing and organisation.

The event will take place in person. There will also be a live stream of the event.
Place: PAB (close to foyer Z-building)
Link to the event:https://ibbb.informatik.htw-dresden.de/b/jul-xxc-cxp-ate
(The following event "Information on internships abroad" will take place in the same BBB room.
From Saxony to the world: Discover, experience, become more! Would you like to spend part of your studies abroad? In this session, students and graduates as well as universities and companies can find all information about internships abroad and their funding opportunities. The Leonardo-Büro Sachsen informs you about the implementation of an internship abroad and presents information about funding opportunities through Erasmus+.

Place: PAB
Link to the event: https://ibbb.informatik.htw-dresden.de/b/jul-xxc-cxp-ate
(The previous event "Important information on studying" will take place in the same BBB room.)
Faculty-specific information events and advice on the studying abroad
Wednesday 30.11.2022
In addition to the events, there will be information desks in the foyer (Z-Building). In the foyer of the library you will also find information about studying abroad.
The International Student Office (ISO) provides information about an exchange semester in Canada, the United States and Australia
Study where other people go for vacations!
True to this motto, the International Student Office presents three of our partner universities: the International College of Management (ICMS) in Australia, Vancouver Island University in Canada and the University of North Carolina Wilmington in the USA. The presentation includes information about the respective universities and countries, as well as tips on application, visa and financing.

Link to the event (09:20 a.m.): https://ibbb.informatik.htw-dresden.de/b/jul-xxc-cxp-ate
Place (11:10 a.m.): S 331
Do you love learning about new cultures and travelling? Would you like to brush up on your English before your stay abroad? Then get to know us at faranto e.V. and exchange students from all over the world!
faranto e.V. is a student association and part of the Erasmus network that takes care of international students at the HTW every semester.
We will introduce ourselves at this event on Wednesday. You can also get to know us and ask us questions at our stand in the foyer of the Z-building from 12:00 to 02:00 p.m.
We look forward to seeing you!
Link to the event: https://meet.google.com/ayf-tzij-hum
Are you interested in Australia or the US and would like to spend a semester abroad?
GOstralia!GO!merica and the HTW Dresden invite you to information sessions in the context of the International Days.
We will inform you in detail about:
- study opportunities
- Funding options such as BAföG (Federal Training Assistance Act) and scholarships abroad
- Application procedure
- the current status of Covid-19
- Insider tips
We are looking forward to you!

Link (02:00 p.m.): https://ibbb.informatik.htw-dresden.de/b/jul-xxc-cxp-ate
Place (11:10 a.m.): S239
Place (12:10 p.m.): S329
A group of students from the Faculty of Informatics/Mathematics traveled to Mongolia during the summer.
There, the group participated in the archaeological excavations and research of the Mongolian-German Archaeological Expedition in the Orkhon River Valley. During the excursion, the ten participants worked on different projects at the interface between archaeology, computer science and remote sensing.

Room: S 207
Contact: Dr. Rohland/Prof. Block-Berlitz
For many years, the Studentenwerk Dresden has maintained partnerships with institutions from the USA and France. Students from the universities in Dresden, Zittau and Görlitz have the opportunity to take part in attractive trips as part of our exchange programmes. In this event, the Studentenwerk will present these projects in more detail.
More information

Link to the event: https://app.bbbserver.de/de/join/b515a55b-4dbd-442f-9468-78249734279b
This event provides information on the Certificate Intercultural Competencies. This certificate gives you the opportunity to distinguish yourself for your future career through extra-curricular activities with intercultural key competences. It certifies activities in the international field - stays abroad, language courses, commitment to the integration of fellow students from abroad and intercultural training. The certificate can be acquired by students of any faculty. As part of the certificate you will take the module Intercultural Communication, which is offered each semester for students of all faculties and can be credited with 5 ECTS credits.
Link: webroom.hrz.tu-chemnitz.de/gl/ker-nq8-vnd-wtm
Contact: Dr. Meyer-Ross
The International Association for the Exchange of Students for Technical Experience, IAESTE for short, is an international, non-political, independent organisation for the placement of interns in over 85 countries worldwide. Work. Experience. Discover. This is the motto of the association founded in 1948. The IAESTE local committee of the TU Dresden supports it students in their application for an internship abroad.
Link to the event: https://tu-dresden.zoom.us/j/65507380650?pwd=WEJ6ekZHblA4SlhzblRZT0ZzMW1SUT09
Thursday 01.12.2022
Our international partner universities present themselves in live information events! The HTW Dresden cooperates with universities worldwide within the framework of university agreements or within the EU Erasmus+ programme. These numerous contacts form the basis for the exchange of students. In our database you can use the filter functions to search for partner universities and find the right one for your stay abroad.

You can find information on financing and funding opportunities on our website for studying abroad in Europe and worldwide.
Further information
Double your chances: Double Degree Programmes
Would you like to improve your French, experience the cultural metropolis of Paris and earn two degrees at the same time? Apply for the double degree programme with the partner university Université Paris Nanterre as part of the Master's programme Management of small and mid-sized companies from 01.12.2022!
www.htw-dresden.de/dfh
Contact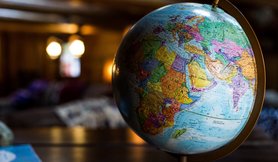 StuRa Referat Internationales HTW Dresden