Electrical Engineering / Elektrotechnik
The study program "Electrical Engineering / Elektrotechnik" is addressed to foreign students who want to combine a profound education in electrical engineering with a parallel training in German language, aiming at entering the German employment market as an electrical engineer after graduation.
For this reason a specially tailored curriculum has been developed which enables the parallelized learning of the technical foundations (in English, semester 1-4) as well as the German language education. By the end of the 4th semester, the German language level B2 must have been reached. Subsequently, during the main course (semester 5-8) the teaching language is shifted to German.
Studies at the University of Applied Sciences Dresden focus on practical education, giving you an excellent hands-on study experience notably in many laboratories. The campus in the city center provides a relaxed social atmosphere to meet fellow students.
| | |
| --- | --- |
| Degree | Bachelor of Engineering |
| Course language(s) | English (first to fourth semesters) and German (third and fourth semester partially, fifth to eighth semester fully) |
| Admission semester | Winter semester only |
| Beginning | Winter semester - October |
| Programme duration | eight semester (four years) |
| ECTS | 180 |
Course content
The programme "Electrical Engineering / Elektrotechnik" is a practically orientated engineering course of study. Due to a specially tailored core curriculum, it is suitable for students who lack the language requirements for a German-speaking course at the beginning of their studies.
The programme is basically derived from the German-speaking Bachelor programme in electrical engineering, though the first semesters have been modified to build a "study adapter" in which the technical content of the first two semesters is being stretched on four semesters. This permits utilizing the released workload for intense German language studies. During the first two semesters, the courses are given completely in English language, while in semester three and four the language is partly shifted to German. From semester five (main course), the course language is German nearly completely.
During the course, the students are gaining knowledge on a broad field of disciplines required for electrical engineering, e.g. Electrical Engineering Fundamentals, Computer Science, Material Engineering, Mathematics, Technical Physics, Electronics, Electronics Design and Technology, System Theory/Control Theory, Measurement Engineering, Digital Systems, Industrial Control, Power Electronics, Computer Aided Design, Fundamentals of Microprocessors, Signals and Systems, Electrical Actuators, System Design with Programmable Circuits, Electric Power Supply, Electromagnetic Compatibility, Electronic Packaging and Microsystems as well as Business Management/Engineering Law. Additionally, in the main course several mandatory elective modules have to be chosen on different fields of specialization in electrical engineering.
The modules are set up in a method-oriented way. In the modules, competencies are being taught in the application of methods of analysis, design, dimensioning, calculation, measurement and inspection. Numerous product-oriented modules especially aim at the necessary width and applicability of the education.
Application
General information about application and starting study at HTW Dresden can be found here.
Foreign applicants have to apply via www.uni-assist.de
German applicants have to apply via HTW Dresden - Studentensekretariat
For foreign applicants it is recommended to start the application process already before May 1st with regard to the possibility to send in missing documents. If you apply before May 1st, you will have to choose "summer semester" in the uni-assist form, though the Bachelor program will start in winter semester.
Requirements
English language proficiency is required at minimum level B2 of the Common European Framework of Reference (CEFR). We accept among others the following examinations:
TOEFL Internet-based (iBT) at least 80 points
IELTS (International English Language Testing System) at least Band 5.0
Test of English for International Communication (TOEIC)
Cambridge English (ESOL)
Costs
There are no tuition fees for the Bachelor programme. However, for the German language courses the tuition fees are currently 490 € per semester. Information about the current enrolment fee can be found here. The fee includes a semester pass for public transportation and student services.
Please note: Due to the part-time studies in the first four semesters, for German citizens no application for BAföG will be possible.
If there are any questions, please send an E-Mail-Message to Prof. Tim Baldauf (tim.baldauf(at)htw-dresden.de) – he will answer all your questions concerning the course.
Contact
Prof. Dr.-Ing. Tim Baldauf
Subject-specific study advice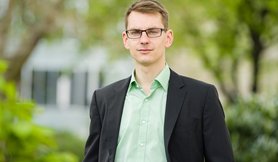 General student advisory service
Response times:
Monday: 12.30 p.m. - 3.00 p.m.
Tuesday: 8.30 a.m. - 11.00 a.m. & 12.30 p.m. - 5.00 p.m.
Thursday: 12.30 p.m. - 3.00 p.m.
or by appointment