Welcome at HTW Dresden - University of Applied Sciences
Dear students,
We would like to welcome you at HTW Dresden – University of Applied Sciences!
In order to support you from the beginning and to connect you with your fellow students and professors, the International Office organises a welcome week from 26 to 30 September 2022 in cooperation with the student organisation faranto eV. Within this week's activities, you will get to know the campus, your faculty, your fellow students and the city of Dresden. We invite all new international students to particpate in the various events that take place during the week. The programme of the week, including the schedule of all the events, will be send to you via e-mail. Short-term-changes of the schedule will also be communicated to you via e-mail.
If you have any questions regarding the start of your studies or the Welcome Week, please don't hesitate to contact the International Officeor faranto e.V.
We look forward to welcoming you soon at HTW Dresden!
Matriculation ceremony on Monday
Save the date
The welcome ceremony for the new students will take place on 26 September 2022 at 1.30 pm at the Kulturpalast Dresden.
More information and contact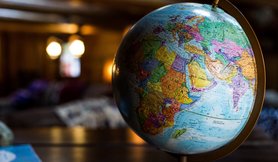 StuRa HTW Dresden
student council
https://stura.htw-dresden.de/
faranto e.V.